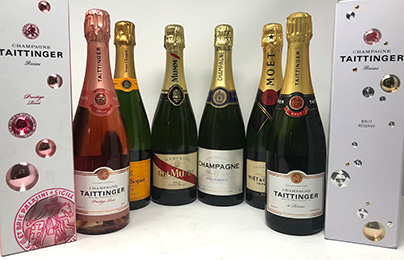 Please note that this is just a guide of the Champagne & Sparkling wines we provide and we cannot guarantee that all of these products are always available in the store.
Freixenet Cor/Cava Negro : 75cl
Freixenet Prosecco Doc
Freixenet Rose Sparkling
Gourmet Champagne & Proscecco Toppers
Moet Et Chandon Nv (75) : 75cl
Mw Pinot Grigio Fizz
Mezza Di Mezza Spumante
Perlezza Prosecco Brut
Perlezza Prosecco Magnum
Spar Doc Vald Prosecco
Spar Doc Prosecco Extra Dry
Spar Cava : 75cl
Spar Esp. Spumante Rose
Spar Esp.Spumante Blanco
Spar Marquis Belrive
Taittinger Brut Reserve N.V. : 75cl
Taittinger Pres Rose N.V.